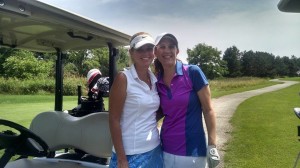 The Fairway Network hosts a variety of golf and social events throughout the year. We host weekend leagues and events at a variety of great golf courses located throughout Chicago and surrounding suburbs.
The Fairway Network is made up of approximately 100 members. As a member, you can  play golf with a great group of women while also building new friendships and establishing valuable contacts.
We host three weekend leagues: Robert Black and Jackson Park on Saturdays and a Sunday league at Eaglewood Golf Course in Itasca.
We also host 2 additional golf events per month on great courses located all over Chicago.
Our outings typically include 16-20 players. A few days before each event, event participants will receive an email with a tee time and assigned foursome.  Members should check in with the event captain as they arrive at the venue. Members play their own ball and keep their own score.  Typically, there are golf challenges where skill doesn't matter and the winner gets bragging rights.  Several events include post round appetizers for members that want to socialize and network after the round.