Welcome to The Fairway Network—Chicagoland's very own women's golf organization for women of all golf skill levels. The Fairway Network offers its members the best of golf in and around Chicago: terrific courses, fabulous foursomes, camaraderie and friendly competition.
TFN organizes weekend leagues and events throughout the golf season. The Fairway Network is a great place to meet fellow women golfers and expand your professional network. We welcome players of all skill levels.
To join The Fairway Network, purchase annual membership fee of $79.  The membership fee entitles you to register for leagues and events. This fee covers administrative costs of the organization including insurance, website hosting, credit card fees, marketing, corporate filing fees, bookkeeping fees and other expenses.
First time guests can register for one event prior to joining.  Please email thefairwaynetwork@gmail.com if you would like more information.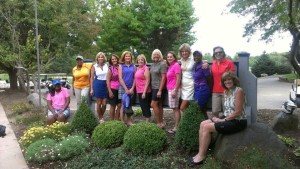 Members and participants in any way in a league or event sponsored by The Fairway Network (TFN) acknowledge, appreciate, and agree that:
To the best of my knowledge, I am in good physical condition and fully able to participate in all TFN leagues or events for which I register.  I am fully aware of the risks and hazards connected with participation in golf at TFN leagues or events, including physical injury or even death, and hereby elect to voluntarily participate in such leagues or events.  I voluntarily assume full responsibility for any risks or loss, property damage, or personal injury, including death, that may be sustained by me, or loss or damage to property owned by me, as a result of participation in this event.
I hereby hold harmless and fully release TFN, its officers, directors, and employees from all liability of personal damage or injury which I may incur before, during, or after my participation in the league or event.
I accept full and sole responsibility for any damage I may cause through negligence and/or malice, including damages or injuries caused by my own actions.
This waiver and release may not be modified in any way.  If any part of this waiver is determined to be invalid by law, all other parts of this waiver shall remain valid and enforceable.  This waiver and release shall be governed by the laws of the State of Illinois.